EVIDENCE DRIVEN DESIGN: Predict behavior with data-driven insights and analytics powered by visual design software.
3-5 seconds. That's about all the time you get for your design to be noticed or lost in the shuffle. What if you could predict what people are likely to see in those critical seconds? And use that knowledge to make your designs stand out?
VAS analyses your designs, using algorithms developed by 3M scientists.
VAS simulates what people see during the first 3-5 seconds of viewing.
VAS can analyze almost any visual—print ads, web banners, store shelf planograms, billboards and more.
Win the first glance
We can help you win the visual clutter battle. Using smart insights and analytics can help you get noticed before you hit print.
Get New Customers
Getting noticed is the first step in effective advertising and branding. Get pre-production feedback that ensures your design is spot on.
Unlock Better Results
Say goodbye, unproductive meetings. Get more done. Using VAS will help y0u gain consensus and support recommendations. Increase confidence. Reduce subjective feedback and churn by adding objective data to the discussion.
View 5 Reports
We do all the work. All you have to do is send us an image to analyze. Our customers enjoy this service for free. We will deliver five solid reports in one easy to read PDF that is emailed to you. View more detail about each report below.
Heatmaps highlight areas of the image that are likely to receive attention within the first 3-5 seconds.

The Regions Report graphically represents the likely distribution of visual attention during preattentive processing.

The Sequence Report indicates the first 4 most likely eye fixation points, in order.

The Areas of Interest Report provides results for the specific areas and objects you marked up during the prepare step, prior to analyzing the image.

The Visual Elements Report. VAS analysis identifies 5 visual elements science has proven to attract human visual attention when we first glance at an image or scene, but before we're aware of what we're looking at. They are Edges, Intensity Red-Green Color Contrast, Blue-Yellow Color Contrast, and Faces.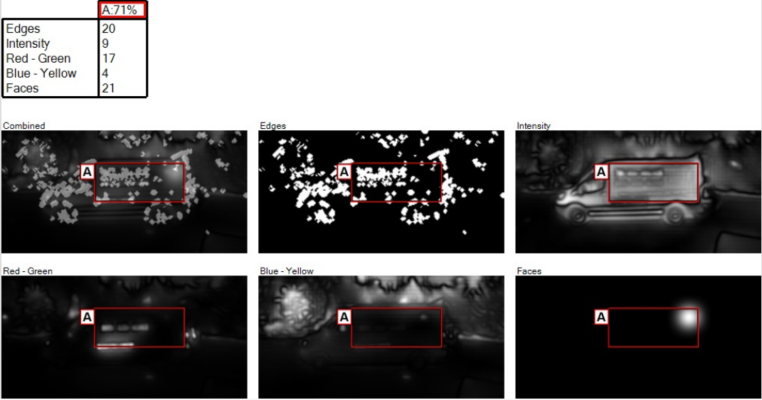 Get a Free Consulting Session.
Just send us a photo for a free analysis!